Yesterday, I spent most of my morning and early afternoon having a bit of a time at the Ideal Home Show Scotland event at the SECC in Glasgow. I was invited along to their blogger event in the press room and also given a free press pass to the event. If you've been reading a while you'll remember I also attended the
Country Living Christmas Fayre
back in November and that these kind of events are very much up my street (indie brands, food samples and some shopping) and I love that I've been able to attend them for free with press passes.
The Ideal Home Show is much larger than the Country Living Fair and had several sections made up for it - garden, women, food, home improvement, technology - of which I spent most of my time in the food bit. Prior to heading into the event myself and some other lovely bloggers were having a natter up in press room with some nibbles. I was digging into the olives, some pepper jelly from
Trotters
and some elderberry wine (out a Dennis the Mennis cup) whilst some of the other were nomming into some Ramsay's of Carluke meat and also some Snowdonia cheese. We were also lucky enough to spot Gregg Wallace and George Clark in the press room (still majorly gutted we didn't get to meet Carole Smilie even though me and
Mummy Central
did go on a bit of a hunt for her,
Changing Rooms
was totally my childhood).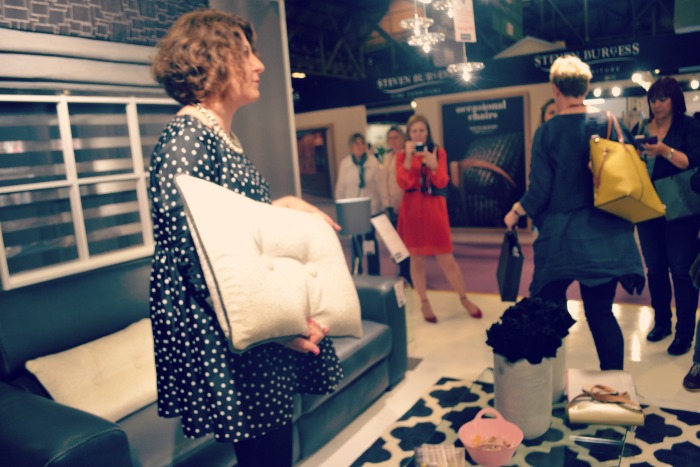 Once down in the event itself we were given a tour to what's hot in the interior world this 2014 from Sterling Furniture's interior designer. She also spent quite a bit of time in Aberdeen where she started her career so we had natter about that and I found interesting how she said each Scottish city has its own interior trends and how it effects her job (apparently Glasgow is the city that likes sparkly interiors the most, I knew I moved here for a reason).
After this we were left to our own devices. Me and Donna were determined to run into Carol Smilie (with little success, unless Donna had success independently) but not until after we had helped ourselves to our complementary glass of champagne. After this I made my way through the crowds to see what was else on offer. It took my ages to get through the whole place but I found myself back at the food stalls after noseying at through everything else - in the end I bought two jars of curry sauce from
Punjaban
, a bottle of Toffee vodka from
Brittains
and some garlic infused rapeseed oil from
Supernature
.
I'd also like to say a big thank you to the PR people at Stirling and Ideal Home Show. They admitted they were nervous as they had never done a blogger event before but I reckon they did brilliantly. We were gifted amazing goody bags and I love so much of what is in it. I'm currently burning the
Arran Arromatics candle
I received (my living room smells delish) and I have been wearing my Dennis the Mennis hat for a large portion of today (and I normally don't like hats). I also received some beautiful tea towels from
Rhubarb & Ginger Textiles
and
Jill Kirkham Textiles
which I'm sure will find a place in my kitchen over the next weeks. And as much as we were all laughing at our period pants from
Diary Doll
(it wasn't a female only group of bloggers...) it will go along nicely with my goal to switch over my sanitary products to reusable products which I'm planning to blog about (because what's a bit of menstrual blood between friends?).
The Ideal Home Show started on Friday and is going on until Monday and like all these kinds of shows I do recommend them. You need to pay to get in these things but on the other side are usually bucket loads of discounts from companies (many who don't have physical shops and you can't normally 'try before you buy') trying to shift stock.
But if you do get to see Carol Smilie, please keep it yourself (I might get jealous).
Morag x
P.S. As always all my photos from the event were uploaded to
my Facebook page
.